These Crumbl Cookie Dough Cookies have a buttery sugar cookie base that's topped with a rich vanilla buttercream frosting and crumbles of edible cookie dough and mini chocolate chips. These cookies are simple to make and truly epic in flavor!
If you've been to a Crumbl cookie store, you may have tried these buckeye brownie cookies. Out of this world! Or you'll have to try our cinnamon roll cookies next.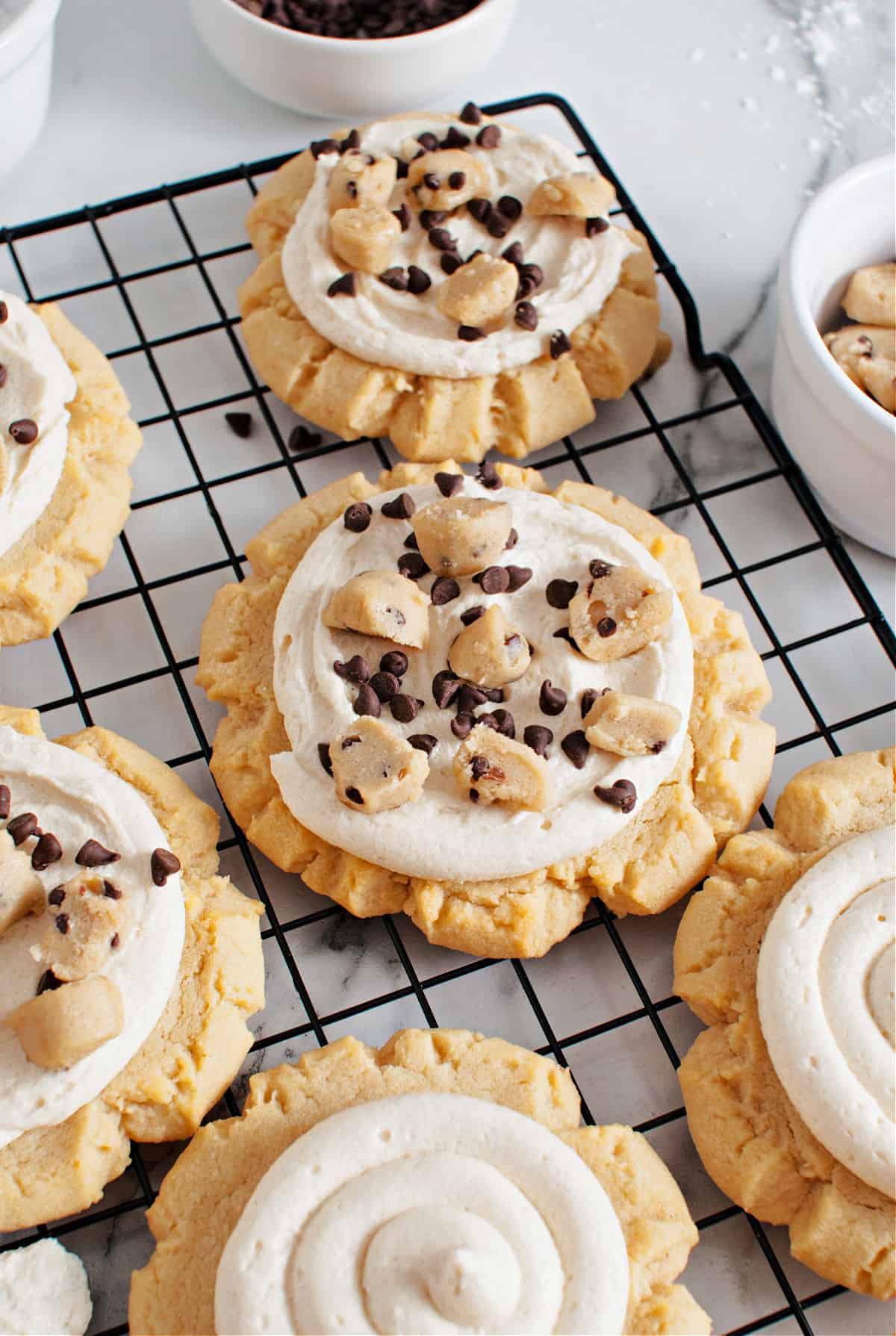 Why This Recipe Works
These cookies are loaded up with deliciousness! The easy-to-make sugar cookie base is chewy, buttery and full of brown sugar flavor.
It's then topped with a rich vanilla buttercream frosting and sprinkled with crumbles of cookie dough and mini chocolate chips for cookie on cookie goodness!
The cookie dough is super easy to make and uses basic on-hand baking ingredients you probably already have.
No need to roll and cut out the dough. The cookie dough is mixed together and then you roll it into balls in your hands, give them a brief chill time in the refrigerator and flatten them out before baking the cookies. So simple!
Frozen edible cookie dough makes the toppings for these a breeze! Just crumble it into small pieces and press right onto the buttercream frosting.
Ingredient Notes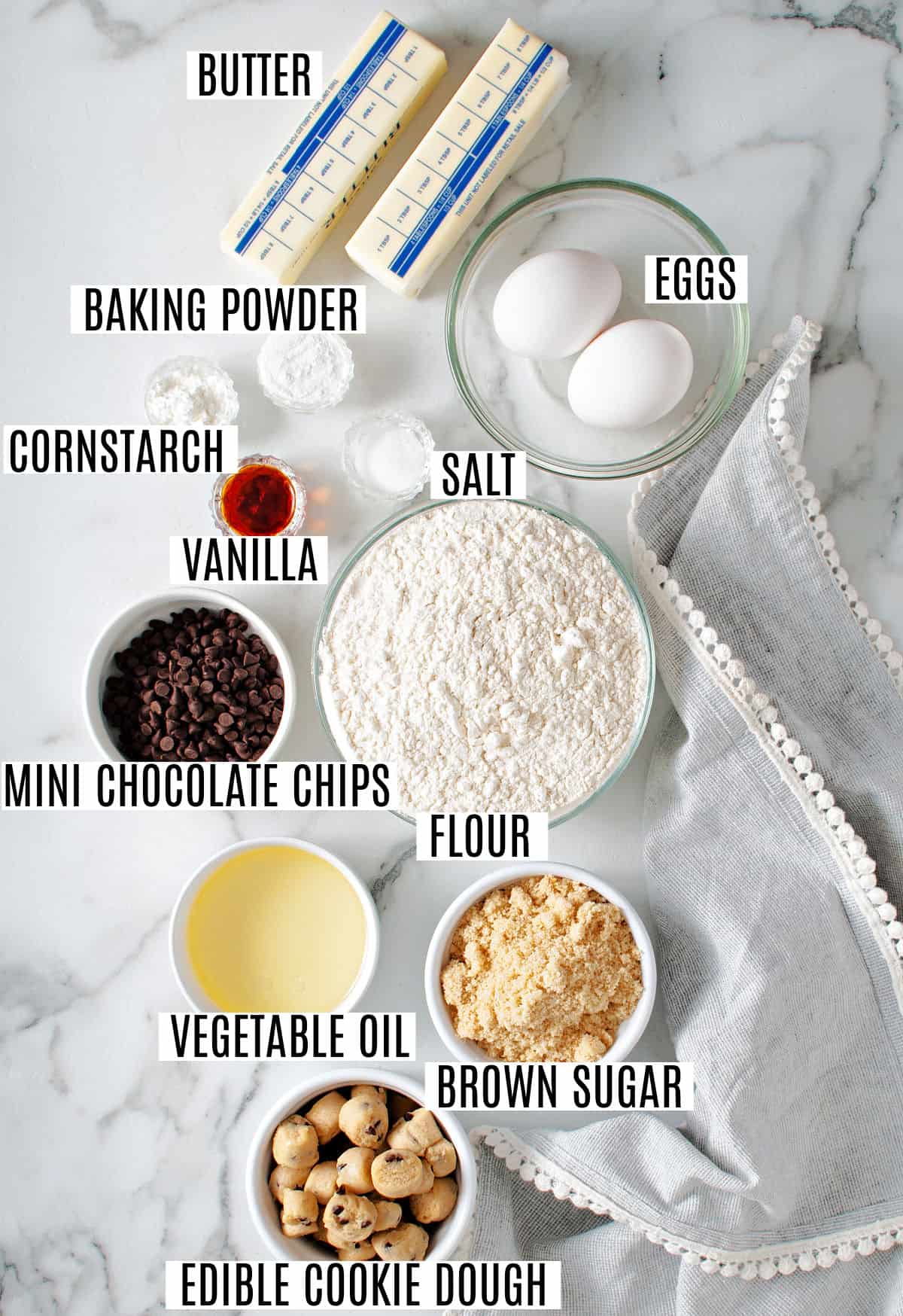 Flour – Regular all-purpose flour works great for these cookies. See my tips for how to measure flour to get the best results from this recipe.
Vanilla Extract – Be sure to use PURE vanilla extract, not imitation. Check out our homemade vanilla extract for amazing flavor.
Frosting – The homemade buttercream frosting here is easy peasy to make with some simple ingredients. You could also substitute store-bought buttercream frosting or try our homemade sour cream frosting.
Cookie Dough Chunks – We used Ben & Jerry's frozen cookie dough chunks, but any brand will do. Logs of refrigerated cookie dough cut into pieces would work just fine.
Mini Chocolate Chips – These add an extra bit of fun to the crumble topping on the cookies, but you can skip it if you don't have any.
Easy Directions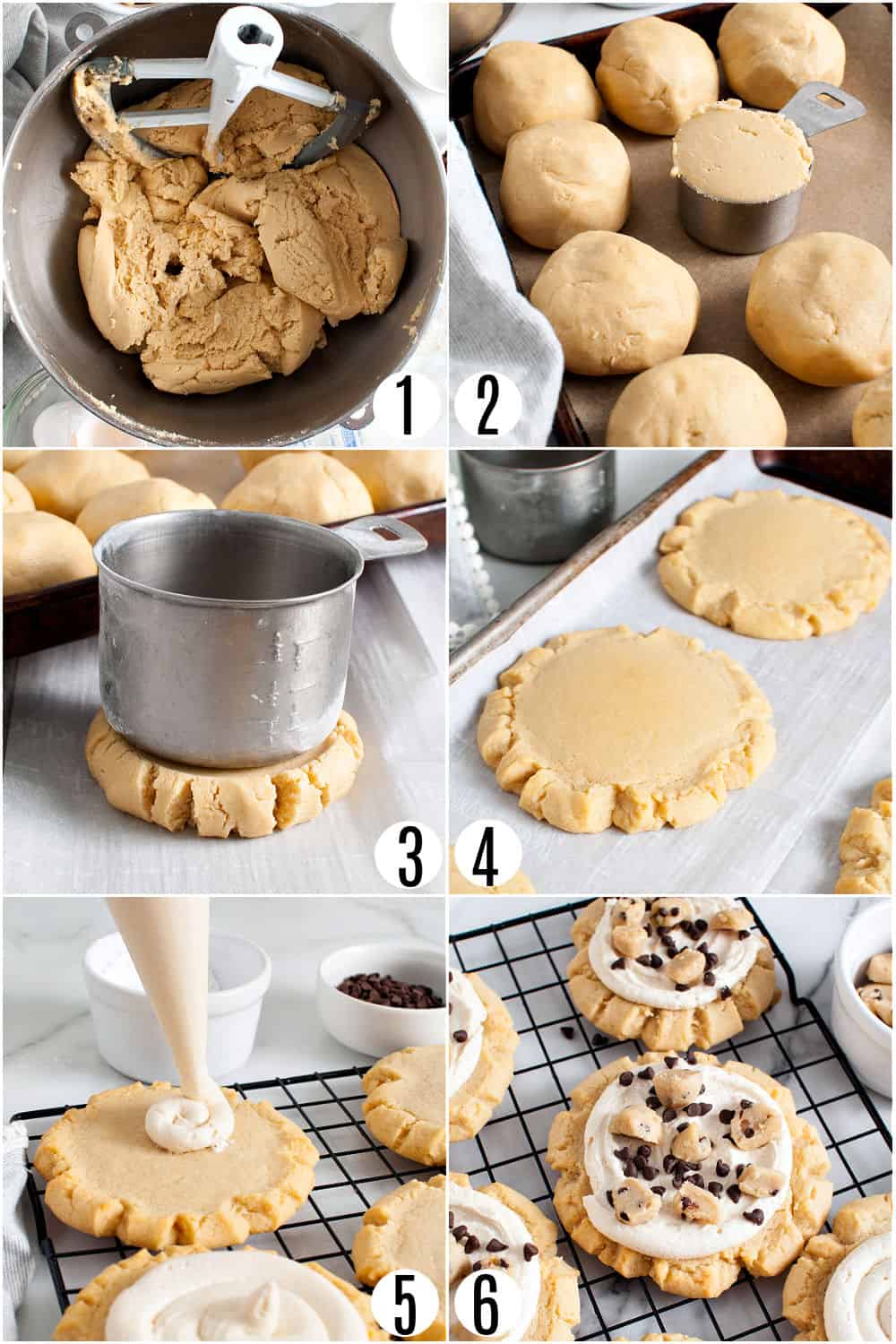 Make the cookie dough. Cream the butter and brown sugar together until well combined. Add the eggs, oil and vanilla extract and beat until light and fluffy. Slowly add in the dry ingredients and mix until combined.
Shape and chill the dough. Roll the dough into balls, using about 1/4 cup of cookie dough per ball. Place on a parchment paper lined baking sheet and chill for 30 minutes.
Bake and cool the cookies. Place the chilled balls onto baking sheets, 6 per sheet, and flatten until about ½-¾ inch thick. Bake the cookies then cool completely before decorating.
Make the frosting. Beat the butter until it's a pale color. Add the sugars and vanilla, and beat until combined. Slowly add the heavy cream and salt and continue to mix for several minutes, until fluffy.
Decorate the cookies. Use a piping bag with an open round tip to make spirals of frosting on top of each cookie. Smooth with a knife. Add crumbles of the cookie dough and sprinkle on the mini chocolate chips. Serve immediately or chill until ready to serve.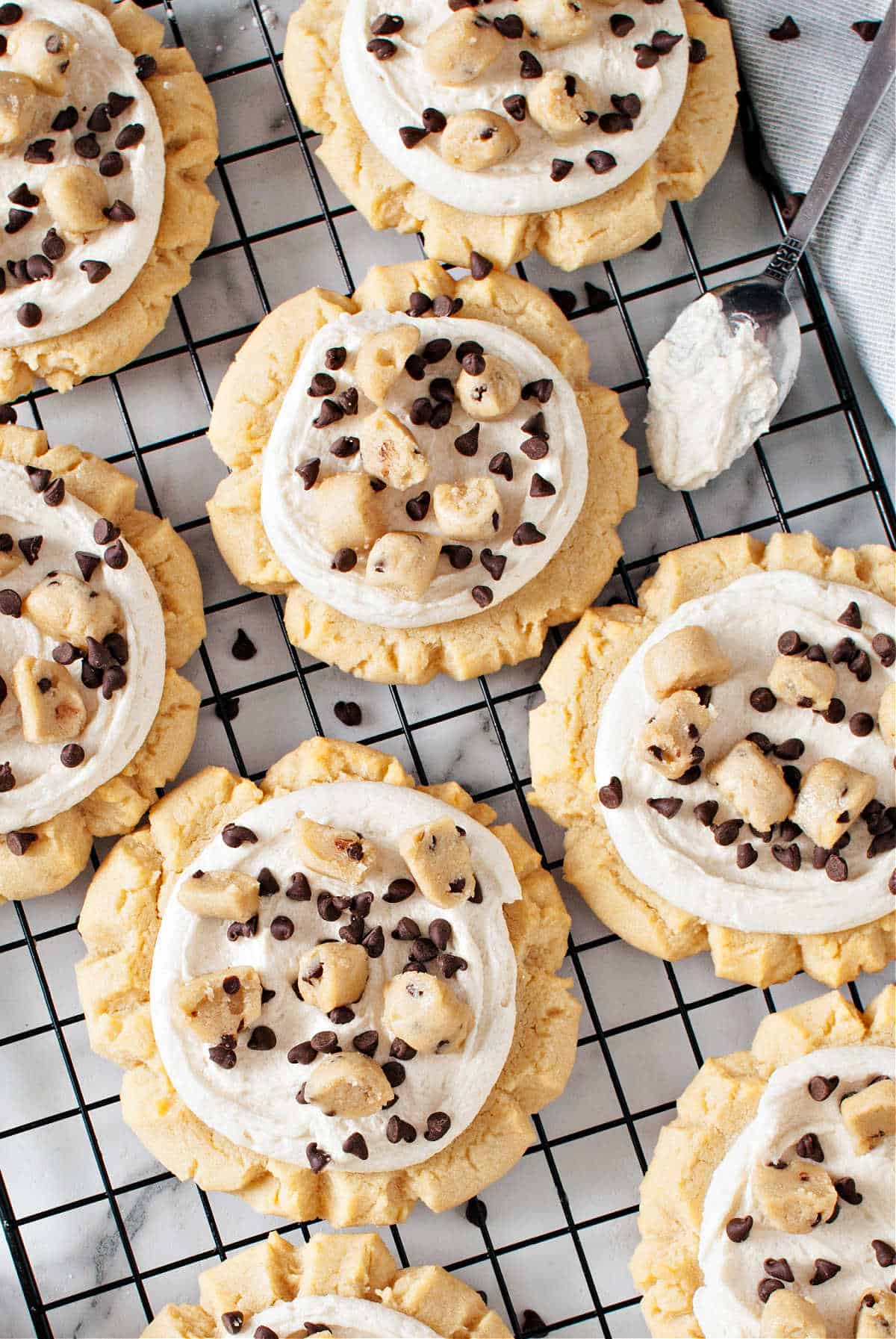 Tips and Tricks
Chill the dough. Once you roll the cookies into balls, you are going to chill the dough for 30 minutes. This helps the cookies spread just the right amount, without becoming flat.
Flatten the cookies. Use the bottom of a glass or a measuring cup to flatten the cookies onto the parchment paper lined baking sheet. The edges may fray a bit; that's OK.
You need to space out the cookies. They are big! Bake 6 at a time per baking sheet so they don't spread into one another.
Don't overbake the cookies!

Bake until they are just lightly blonde in color (not golden).

Be sure to

cool the cookies completely

 before adding the frosting. The cookies need to be all the way cooled or the frosting won't set on top.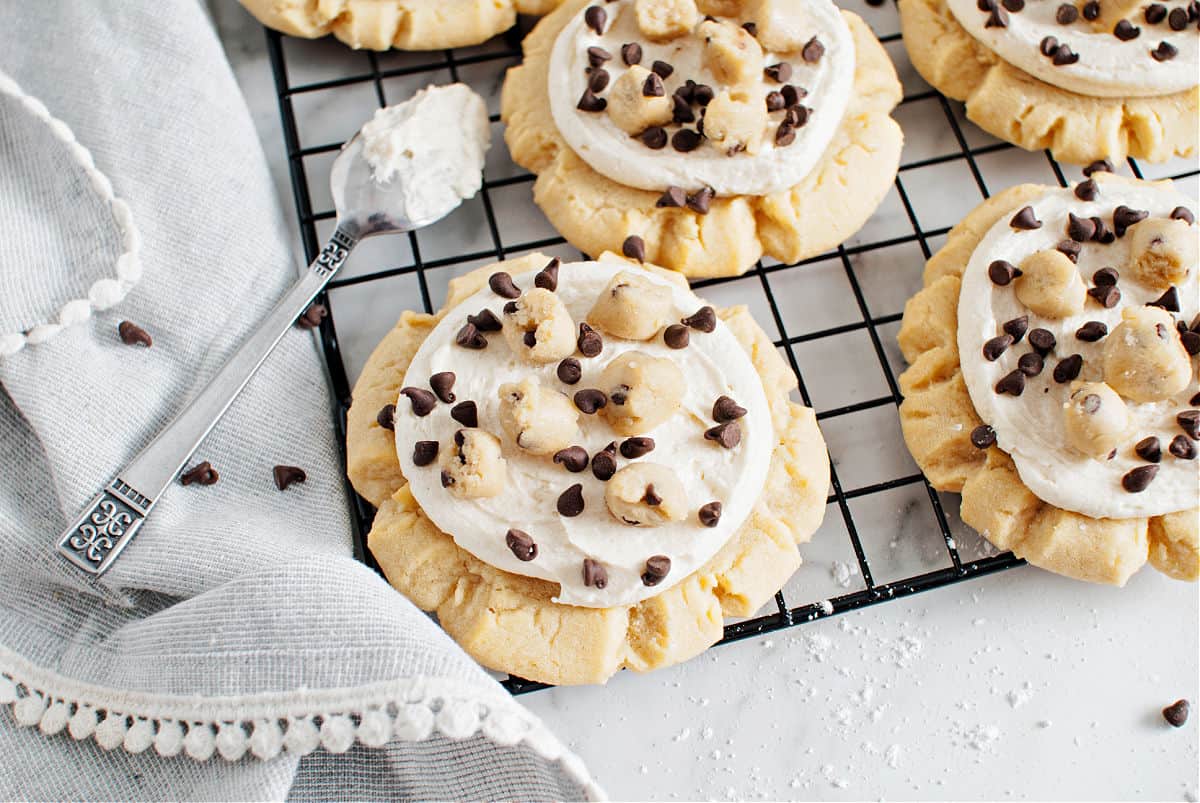 Recipe FAQs
Where do I find edible cookie dough?
We use Ben & Jerry's frozen edible cookie dough from the freezer section of the grocery store. Any brand will do – and even Target has a version. You could also use a homemade edible cookie dough recipe (make sure to heat treat the flour) OR you could just crumble up 1 or 2 of these baked cookies to use as crumble topping.
Do I have to use a piping bag for the frosting?
If you don't have a piping bag, you can use a ziploc bag. Fill it with frosting, then snip off the corner and pipe the frosting onto the cookies.
Can I use a store-bought frosting?
Yes, you can substitute a store-bought buttercream frosting to use for this recipe.
Can I freeze these cookies?
Yes! Cookie dough may be rolled into balls and frozen, in a single layer, on a pan, then placed in a freezer bag and frozen for up to 2 months. When ready to bake, place frozen dough balls on a baking sheet, and bake 1 minute longer than the original directions.
How do I store the cookies?
Store the cookie dough crumble cookies in an airtight container in the refrigerator for up to 5 days.
More Cookie Recipes