It's been a long and isolating year and a half for a lot of us. Friends and family have been separated. Parents have been juggling work and homeschooling kids. Favorite restaurants and stores closed. Nonetheless, there is a light at the end of the proverbial tunnel of gloom.
With COVID restrictions beginning to ease, a group of creative and design-minded friends was recently able to decompress at a special place — Seabrook. The picturesque beach getaway on Washington's coast by Pacific Beach looks like a backdrop to a Hallmark movie. There are small cottages and enormous homes (that can sleep multiple families) available to rent. The traffic flows slowly; most people walk and bike. There are small shops, restaurants, an indoor pool, a gym, and more. Of course, the main draw is the ocean. Some owners love it so much, they live there full-time.
The group stayed in a cozy coastal farmhouse-style home called Miss B Haven, owned by one of the ladies, Brenda Harwood. Located in the Farm District neighborhood, the home has three bedrooms, 2½ baths, and sleeps six. It comes with high-end amenities, including a kitchen with top-of-the-line tools — like Williams Sonoma muffin tins. You can even make Harwood's tried-and-true blueberry-muffin recipe that she shares with her guests. The address should inspire anyone to bake the muffins — after all, it's located on 23 Blueberry Lane.
This particular home played a central role in the group members' friendship — they met each other in various ways during its design, photography, and more. "This house has created a space for all of us to create a lifelong friendship," said Jordan Moll, owner of Jordan Moll Events in Gig Harbor and GIVE Custom Curated Gifting (she made welcome gift baskets for the vacation).
"There is something about time with your girlfriends where you can be yourself and be authentic. It soothes your soul," Harwood said. "The time brings energy back to you."
Welcome to Miss B Haven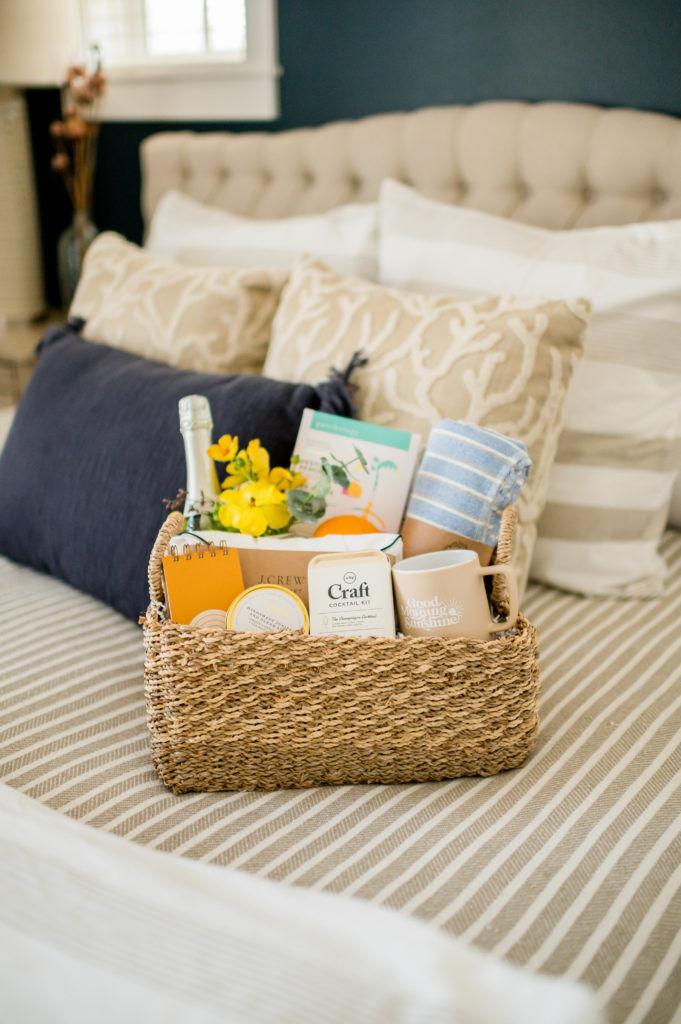 The ladies gathered at Miss B Haven and got settled in. Each received welcome baskets by GIVE. They walked around the town and took a lot of pictures. Throughout the evening, they chatted and sipped drinks by the bonfire.
About the 'Miss' Behind Miss B Haven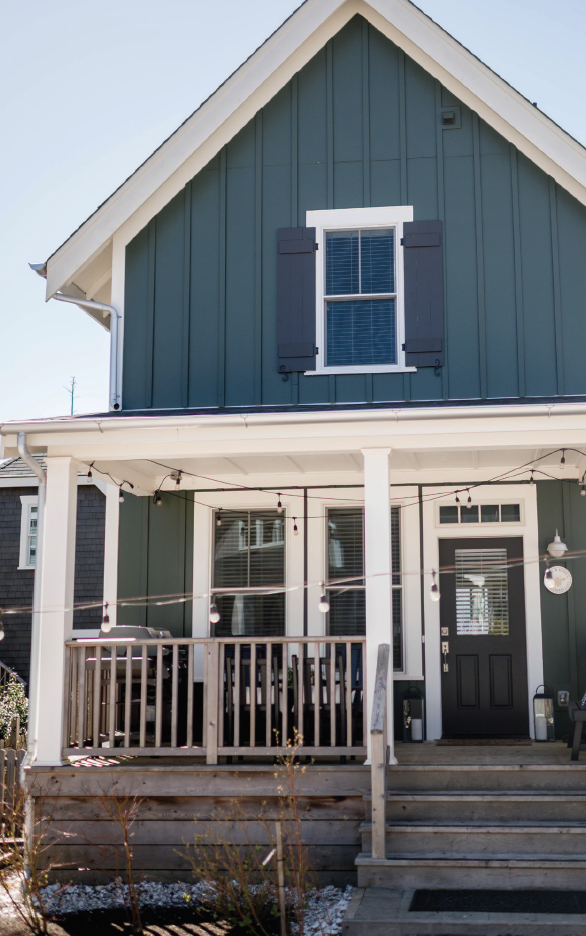 Owner Brenda Harwood's nickname is B. And this home she bought in 2017 is like a haven for her and her two boys. She wanted a place they could play freely and spend a lot of time making memories. It is a nice getaway from city life in Seattle's Queen Anne neighborhood. This Miss B Haven ended up becoming a funny play on words. "If a house can have a personality, it would be this — having nicer things, but it doesn't take itself too seriously … simply put, beautiful inside and out," Harwood said.
Morning Muffins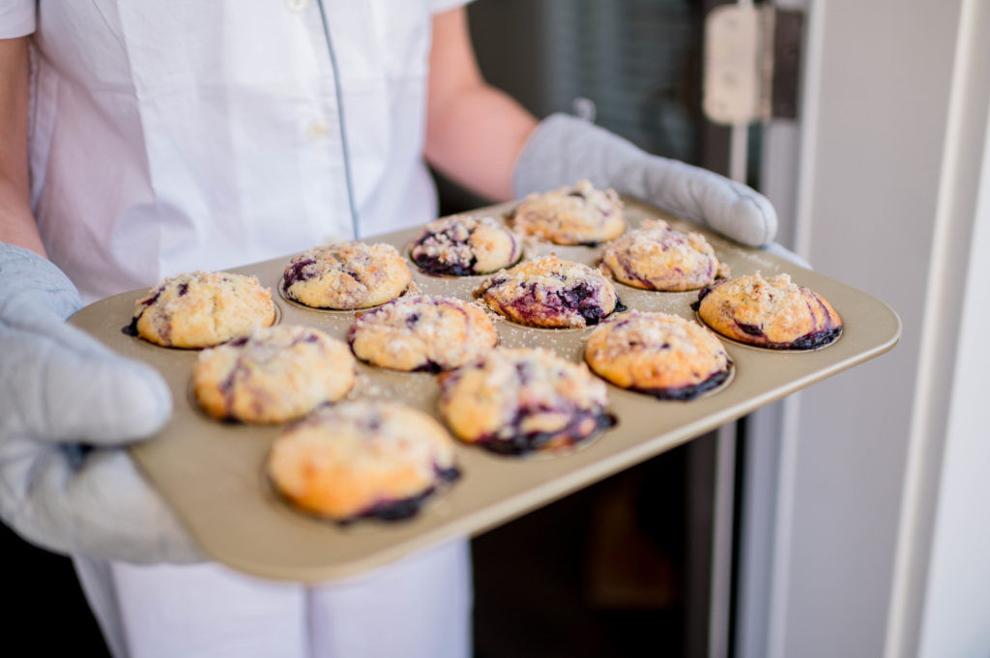 The women awoke to the smell of warm blueberry muffins baking and fresh coffee brewing. They enjoyed a leisurely morning before they hit the beach.
Sipping Stuff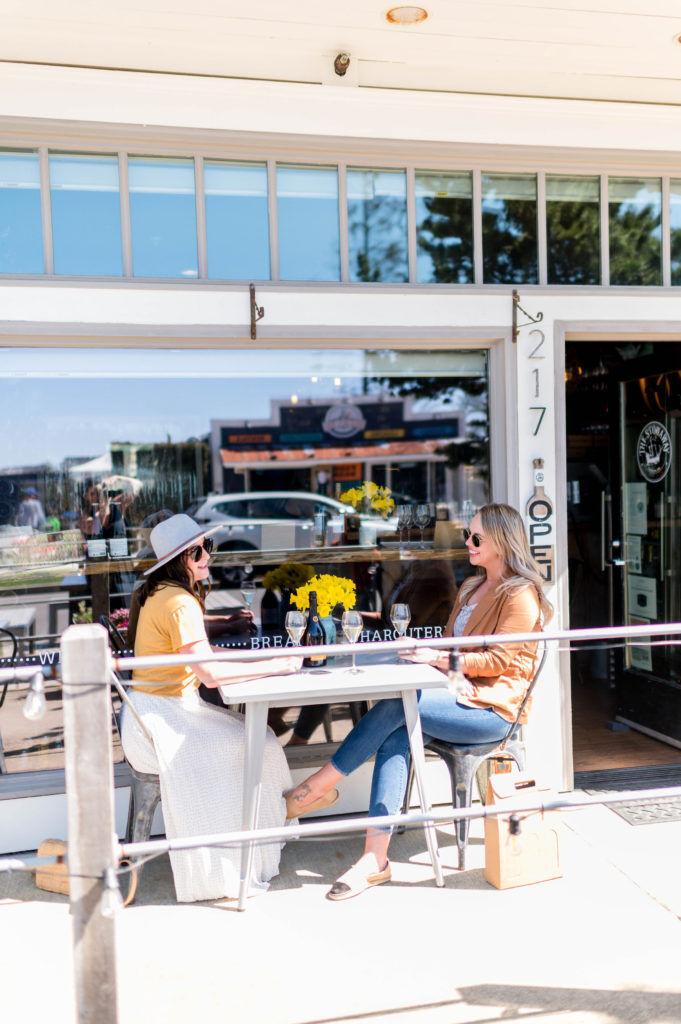 Wine tasting at The Stowaway Wine Bar on Front Street always is a fun treat. The wine bar also offers delivery, curbside pickup, takeout, and outdoor seating. Order the figgy flatbread, cheeses, and meats, or a whole charcuterie board for an easy picnic at the beach.
Busy Social Calendar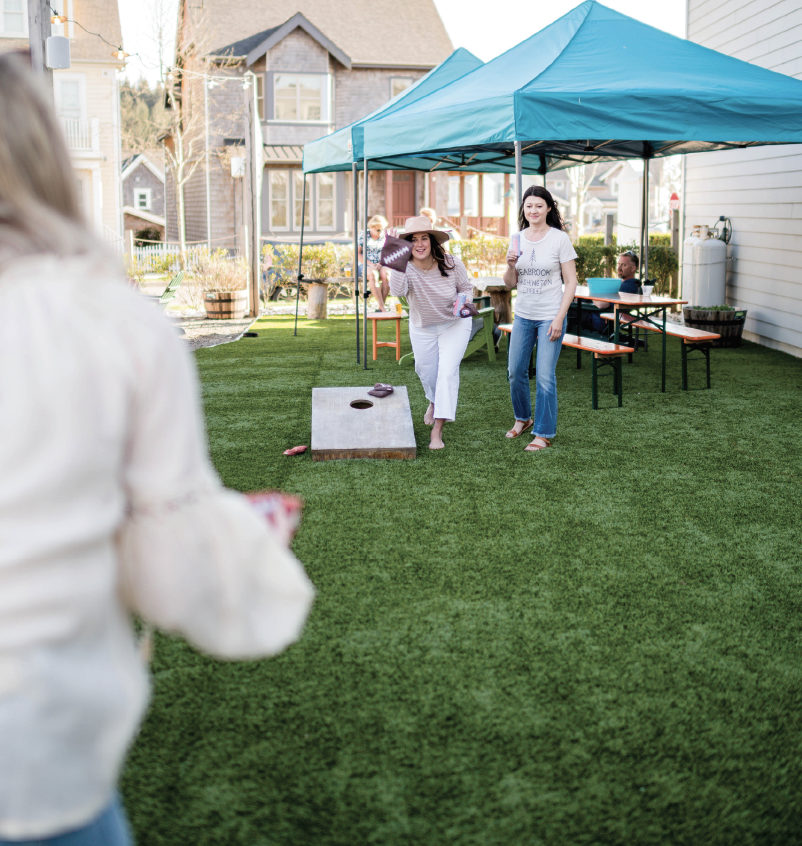 Seabrook often has fun events happening in the community, like concerts in the park and beer gardens, and activities like scavenger hunts or looking for hidden glass floats. Don't miss out on the fun. The women had a chance to experience a beer garden and a concert, and they ended the night with dinner at Koko's, a Latin food restaurant and tequila bar. The tortilla soup is a work of art.
Let's Ride a Bike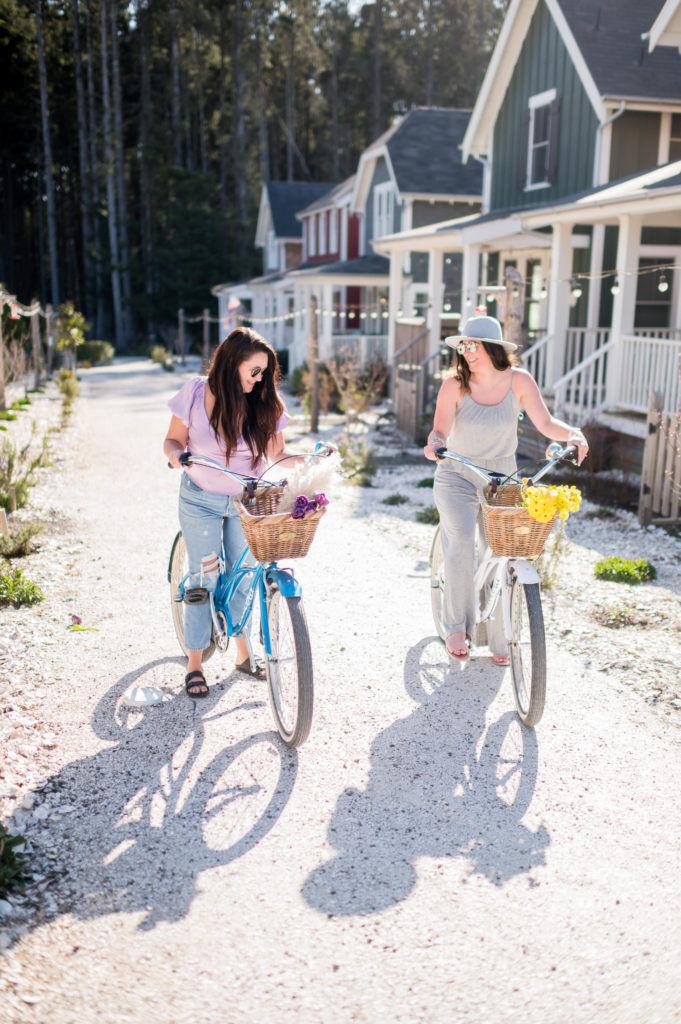 Many Seabrook homes have bikes to borrow. You also can rent them from Buck's Northwest at Seabrook. Be like a local, and explore the community on two wheels.
Skimboarding at Seabrook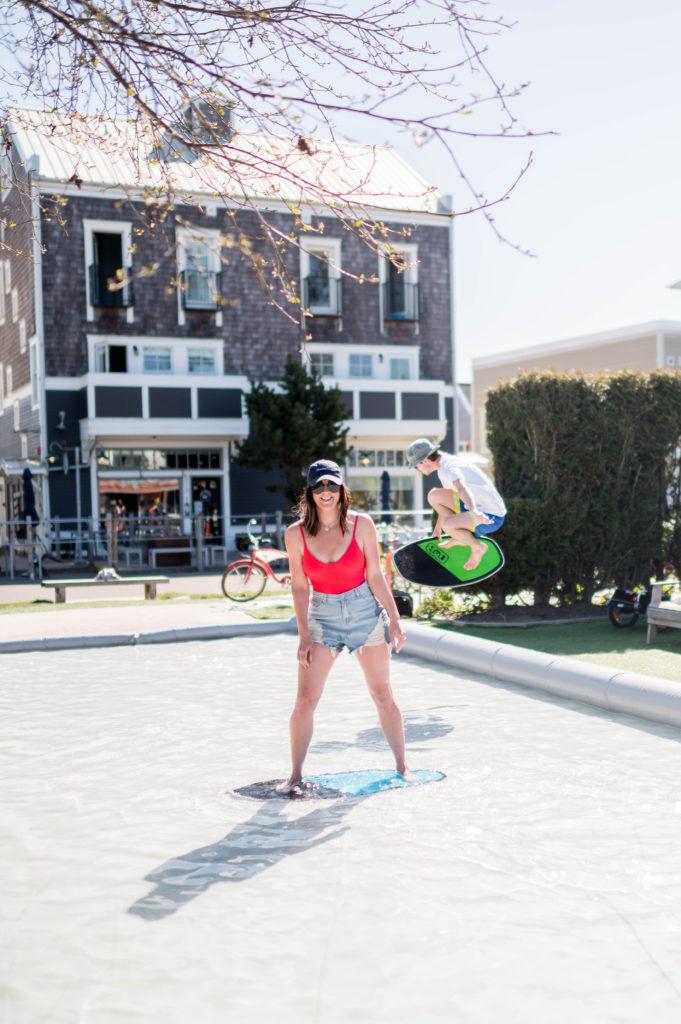 Buck's Northwest offers skimboarding lessons and rentals. Learn how to hit the waves at the beach or on the skimboarding pool for a "less intimidating" introduction.
Tips for Creating a Simple Beach Picnic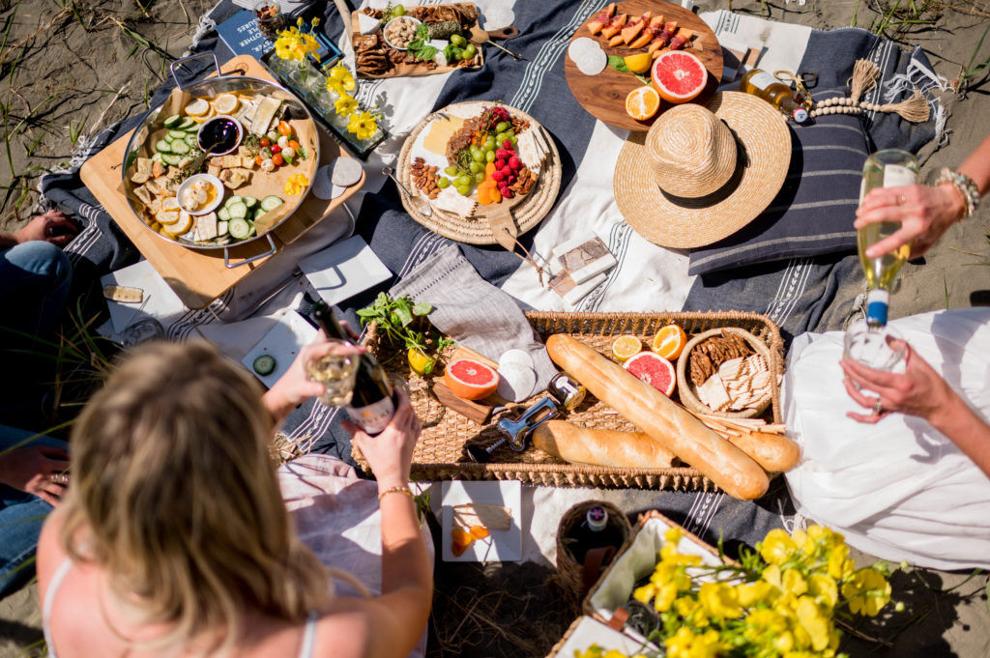 Moll loves creating picnics on the beach for her friends. "It's casual, fun, and relaxing," she said. "You can create delicious cheese boards, charcuterie, and snacks to appeal to everybody."
She always begins with presentation in mind. Gather cool boards, a simple cutting board, or any flat surface; ramekins for dips with varying colors and textures; and choose a theme. "For this one, the theme was all about friends relaxing and enjoying the sunshine at the beach, so I chose a laid-back beach vibe with blue tones brought in by the picnic blanket," Moll said. "I selected yummy fruits and veggies that were in season and delicious cheeses, balsamic, and honey that was sourced locally."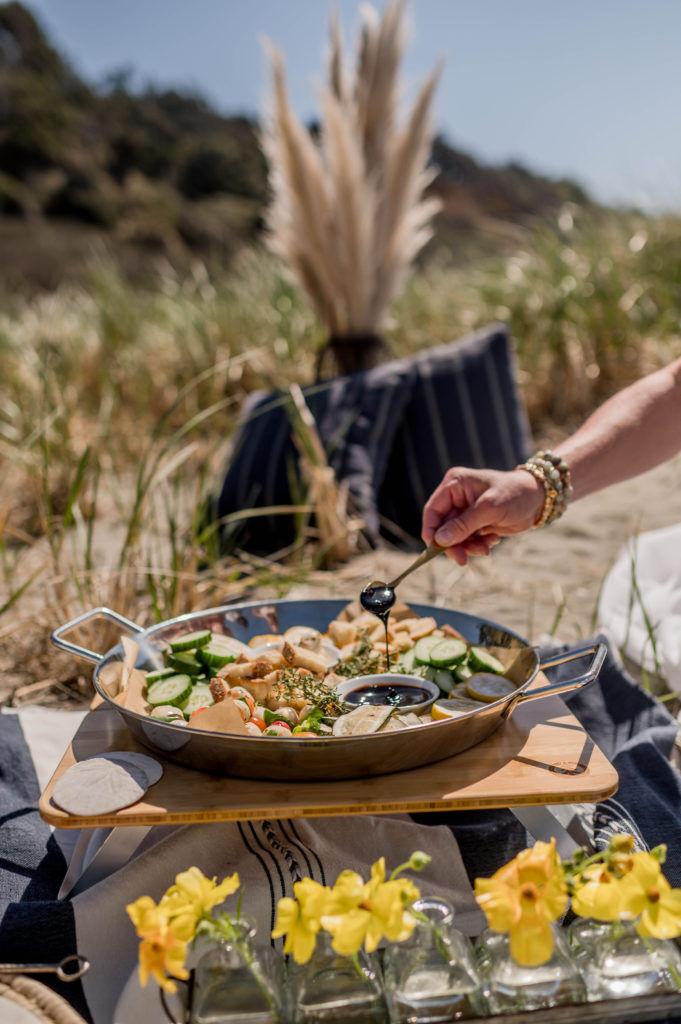 Moll's veggie tip? Grill 'em. "Simply slice and grill with a good olive oil and salt for delicious flavor and the awesome grill-mark texture."
She brought in color with fresh and dried fruit. "These add a pop of color and burst of the season's best flavors. I always add a collection of crackers and breads to all my spreads, too. This adds a little crunch and sustenance to a beach picnic."
In the Details
Co-Hosted by Event Planners + Designers
Dae Planner: Cassie Hanson, owner
IG | @daeplanner
Jordan Moll Events: Jordan Moll, owner
IG | @jordanmollevents
Host | Venue
Miss B Haven: Brenda Harwood, owner
IG | @missbhaven_seabrook
seabrookwa.com/vacation-rentals/miss-b-haven
Photographer
Reyna Robyn Photography: Reyna Robyn, owner
IG | @Reynarobynphotography
Paper Goods
Passio Creative: Heather Stajgr, owner
IG | @PassioCreative
Seabrook Business Support
Seabrook Concierge | Hospitality
Stowaway Wine Bar: Garry and Heather Montag, owners
thestowawaywinebarseabrookwa.com
Magnolias (Boutique): Brooke Beals, owner
Buck's Northwest: Buck Giles, owner bucksnw.com
Koko's Restaurant and Tequila Bar: Gibran Moreno and Alex Torres, owners