When the summer sun heats up the days and it's too hot to cook, what could be better than a picnic spent with good friends and family, great food, conversation and a scenic outdoor setting that sets the stage for fun times and great memories?
Fortunately, there are many idyllic places in and around Kerrville for al fresco dining, so head to your favorite spot or try someplace new. Locally, the Kerrville Parks and Recreation Department provides an online map that makes the selection process painless, whether you want a simple picnic table, a place to grill out or a covered shelter for a larger group. Check out Kerrville's beautiful parks here. Two of their most popular parks are featured ahead, along with several others you just may want to try.
---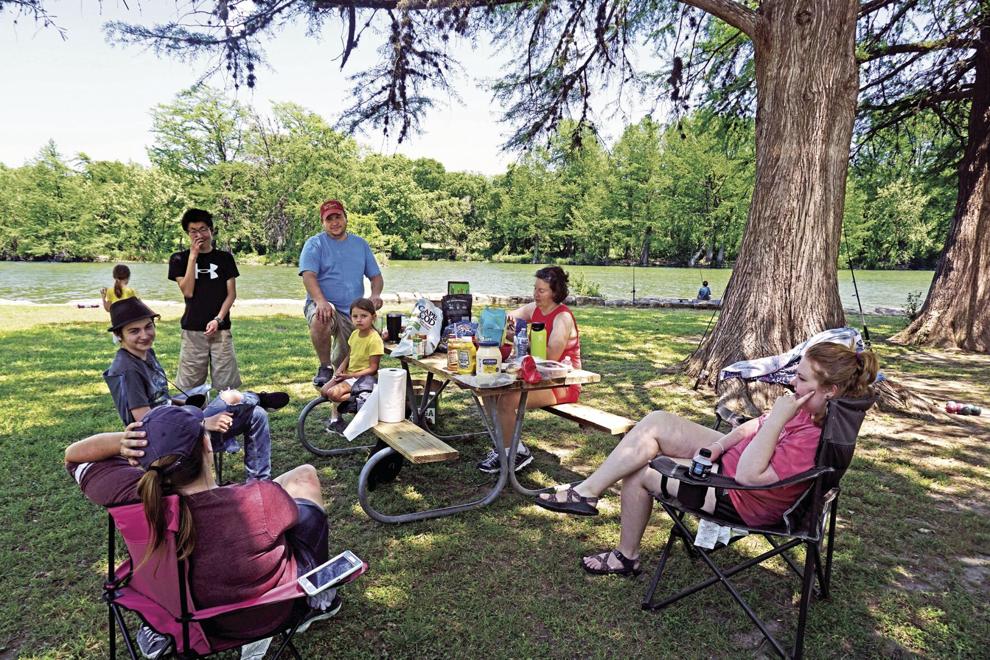 Kerrville-Schreiner Park
2385 Bandera Hwy. • 830-257-7300 • Website
Pack in your favorite picnic foods and spend the day at this beautiful 517-acre park that cozies up to the Guadalupe River. Amenities include picnic areas with standing grills, picnic shelters, boat launch, campsites, 10 miles of hiking and biking trails, kids' playground and kayak and canoe rentals, Open daily (excluding holidays) from 8 a.m. to 5 p.m. Admission charged.
---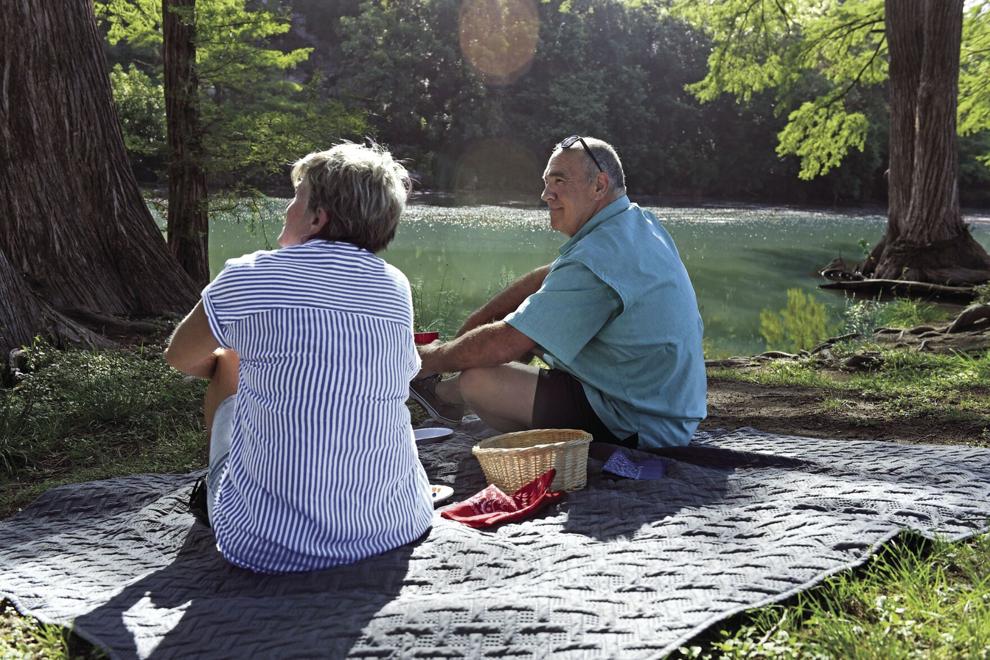 Louise Hays Park & Tranquility Island
202 Thompson Drive • 830-896-6220 • Website
This 63.5-acre park is centrally located just a minute from downtown and offers serene views of the Guadalupe River. It's also a great choice for hiking, fishing, strolling the River Trail and letting the kids splash in the spray park. Stroll across the footbridge to Tranquility Island, spread your blanket out near a pretty spot and enjoy a quiet lunch beneath a canopy of shady cypress trees. If you have a larger group, you may want to rent a covered pavilion; reservations are required.
---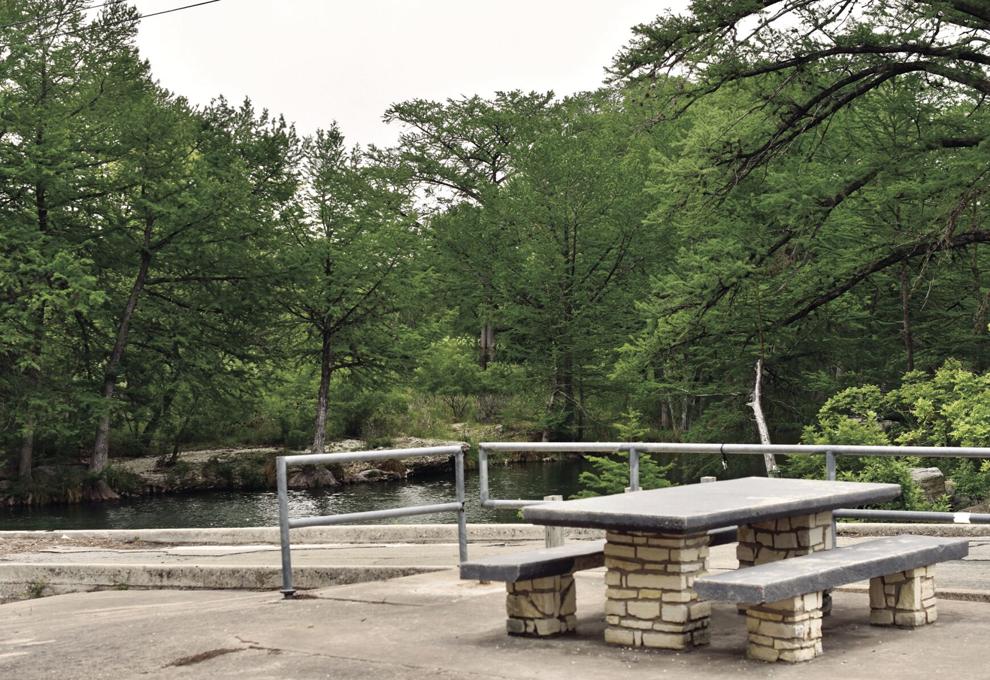 Schumacher Crossing
It's a pleasant drive just 5.5 miles from the center of Ingram on Highway 39 to this pretty location. Watch for the Texas Historical Marker and stop to read where Christian Schumacher and his family settled after emigrating from Germany in 1845. The picnic area is just beyond the sign across the bridge, but consider driving two minutes further to Bridget's Basket, a beautiful farm-to-table operation where you can buy tasty — and healthy — lunch fare. (Visit brigetsbasket.com for hours and menu). Return to the covered picnic tables, where rushing waters of the Guadalupe provide a restful backdrop to your outdoor meal. Wheelchair accessible. No other services provided.
---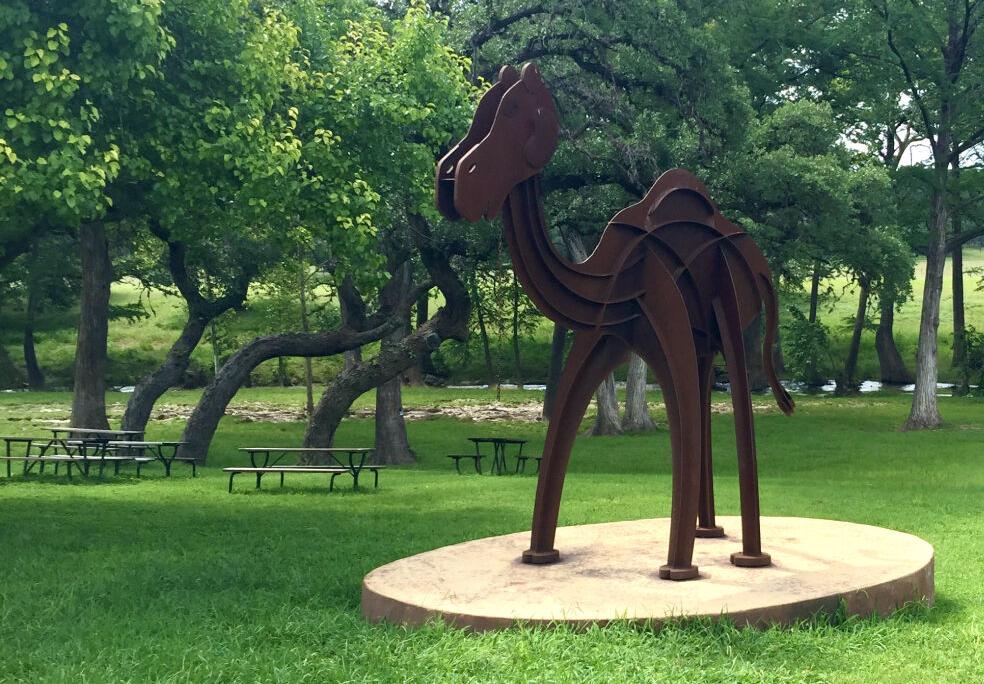 Camp Verde General Store
285 Camp Verde Road East • 830-634-7722 • Website
This tranquil picnic spot overlooks Verde Creek on the grounds of the Camp Verde General Store, a frontier outpost established in 1855. Take time to read the Texas Historic Landmark plaque describing the general store and post office and its purpose to provide goods to U.S. Army soldiers stationed nearby. Inquire in the gift shop/post office about Jefferson Davis' Camel Experiment that ran from 1857-1869, then stop at the restaurant and grab delicious sandwiches and salads for your picnic by the river.
---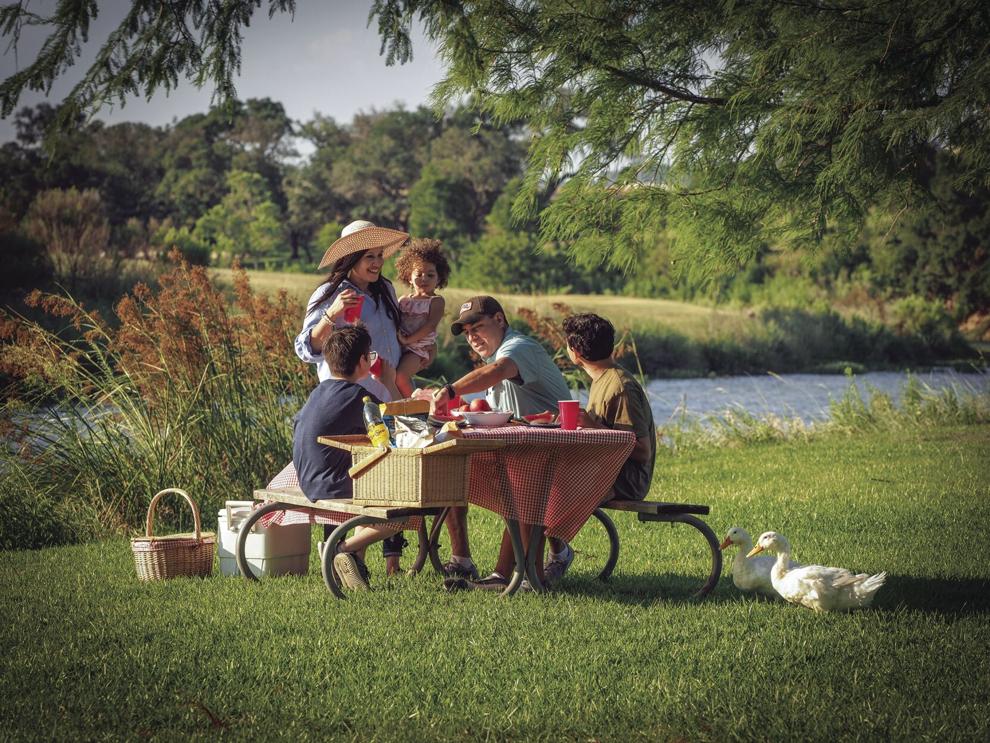 Lady Bird Johnson Municipal Park
Texas 16 at Lady Bird Drive • 830-997-4202 • Website
Explore this 330-acre park that features picnic tables, five large pavilions with oversized barbecue pits, fishing spots at Live Oak Creek, nature trails, sand volleyball, kids playground and basketball, tennis and pickleball courts. Tote your meal in unless you want to drive three miles farther to downtown Fredericksburg. Call Park Headquarters for general info and pavilion rental reservations.
---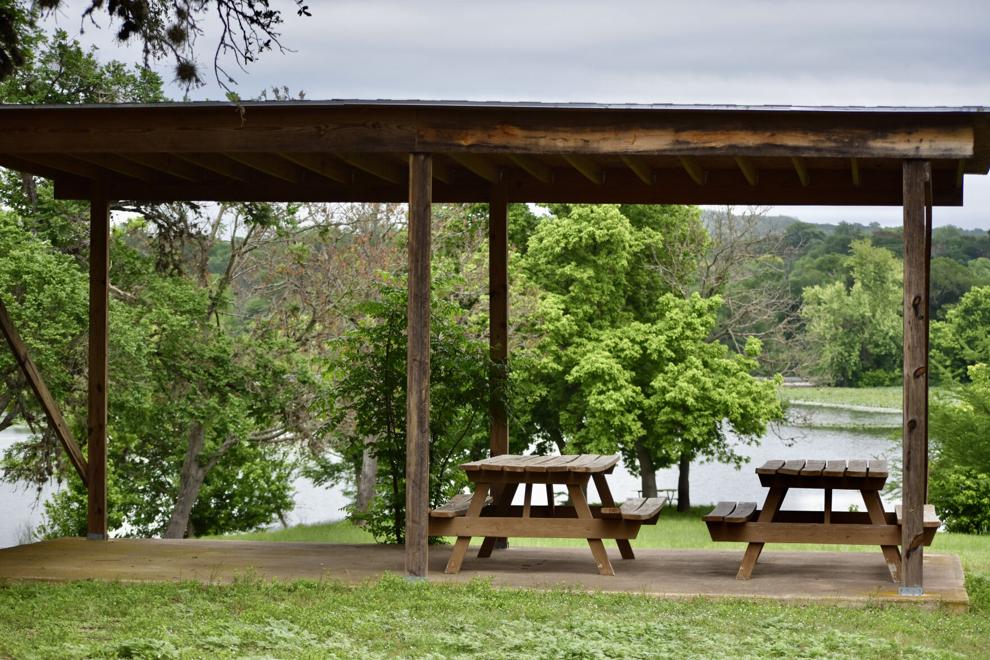 Hill Country Arts Foundation
120 Point Theatre Road • 830-367-5121 • Website
The manicured grounds of this Ingram landmark lead you toward the "point," where Johnson Creek meets up with the Guadalupe River. Covered picnic tables provide a quiet and private place for your special picnic. There is no admission charge, but do take time for photo ops at Stonehenge II and Easter Island, walk through the latest exhibit at Duncan-McAshan Art Gallery and check out upcoming shows at the outdoor Point Theatre. Make it easy on yourself and order perfect picnic fare at the on-site Southern Sky Music Café, where intriguing menu items provide many delicious choices.
Nancy Foster has contributed to Texas Hill Country Culture since its beginning and says, "It's an honor to write about the fabulous people and places in our area." She and husband Raymond have lived in Kerrville for 10 years. She heads Foster Tourism Marketing and also writes for Allegiant Airlines inflight magazine.